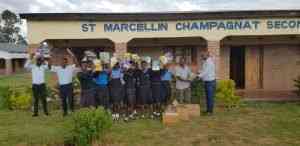 FMSI has visited the two schools in 2019 as part of the initiatives in support of enhancing inclusive education in secondary schools in the whole South African Province. Access to education in Malawi is a huge challenge: according to the 2018 population and housing census, the total number of out of school children in both primary and secondary schools was 2.4 million representing 41 percent of the total children. The establishment of open schools is an initiative to respond to the educational needs of girls and boys who are neither able to afford school fees nor attending morning classes.
Open school has already a huge impact in the schools of Malawi as both Champagnat Community Day Secondary School and Likuni Open Secondary School are welcoming a growing number of girls and boys of the surrounding communities who cannot afford the boarding school fees. The need for classroom furniture and books in both institutions is critical in order to provide an appropriate learning environment for vulnerable children and teenagers.
In consultation with the management of both schools, FMSI has donated 12,986.46 Euros for the   purchase of 820 textbooks, 60 desks and 25 benches that have been purchased and are now at disposal of the students.