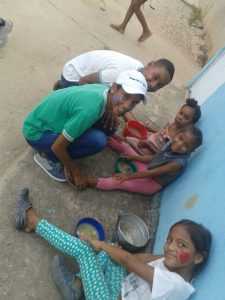 FMSI supports the 'One dollar for a snack' campaign launched by the Marist Brothers in Venezuela.
For years now, Venezuela has been suffering a political and economic crisis that has led to mass exodus and starvation of the population which is now seriously lacking work, medicine and food. In 2016, according to the Caritas of Venezuela Observatory, 11,000 children died from lack of care, while maternal mortality rates rose to 70%.
In the face of this disaster which is being largely ignored, the Marist Brothers launched a campaign and an appeal that is now promoted by us as FMSI, 'A dollar for a snack'. Donating one dollar or one Euro you will provide a breakfast or a snack to children living through an unprecedented food emergency which claims the lives of 5 to 6 children per week due to malnutrition (Save the Children data).
Together we can give practical help in this emergency
DONATE NOW