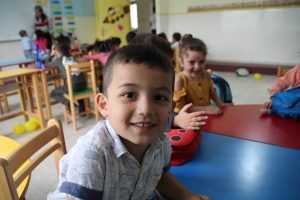 Technology, used creatively, can be a valuable resource of the education system and can make a difference in the way teachers teach and students learn. The connection of technology with every aspect of our community is profound: access to computers and the web and the ability to use these technologies efficiently play a central role in the development of personal communication, business transactions, information collection and are a key competence around which professional careers can be built. Distance learning is also, and above all, under constant development. Teachers are constantly using the web as a means of getting access to information, keeping up to date and communicating with colleagues and students. Students, on the other hand, are able to connect to and use the huge information resources available on the web, including online libraries, and collaborate with other students around the world.
Unfortunately, access to these technologies is currently inadequate and unevenly distributed between developed and undeveloped regions of the world, sometimes even within the same country or even the same city. This unequal access, called the Digital Divide, is a major obstacle to development because it prevents people, and especially children, from getting the right education due to lack of access to the right technology.
The OECD (Organisation for Economic Co-operation and Development) defines the digital divide as the gap between populations and regions that have access to modern information and communication technologies (ICTs), and those that do not or have limited access. These technologies may include telephone, television, personal computers and the Internet.
Effects on education.
When contextualised in the world of education, the digital divide is a broad concept that needs to be considered from different perspectives. In addition to physical access to technology, digital competences are also extremely important. According to the UNESCO definition, digital competences consist of "a range of skills to use digital devices, communication applications and networks to access and manage information, enabling people to create and share digital content, communicate and collaborate, and solve problems for effective and creative personal fulfilment in life, learning, work and social activities in general". Another aspect to be taken into account is the results in terms of school performance and engagement. Finally, other external  factors such as parental support, teacher skills and the learning environment should not be underestimated.
When information technology was introduced into the education system, expectations were undoubtedly high, especially in terms of its impact on those at a disadvantage. However, these expectations were disappointing and unfortunately the digital divide has widened quite quickly, with obvious results:
– Low-income families are very limited in their access to information as they cannot afford technological tools or simply connectivity to the web. As a consequence, most students from disadvantaged countries focus only on theory activities without the possibility to develop concrete digital skills. This greatly affects their engagement, leading to poor performance.
– At present, the investment in technology by educational institutions is very substantial and most learning programmes include learning modules that are delivered online or simply made available on the web. This gives students who can access technology at school level a competitive advantage over their less lucky colleagues.
– While students from disadvantaged backgrounds face many obstacles in obtaining a quality education and may have to travel miles to reach their institutions, distance learning programmes allow those who can afford them access to knowledge and skills under economic and organisational conditions that are actually better. Moreover, in most developing countries there is a tendency to focus on technical training or to make do with inadequate academic training, mainly due to low-level technological and computer equipment.
Digital divide and development.
Technology is an essential part of education in most developed countries, but access to technology and digital literacy are limited or non-existent in the rest of the world. Lack of technology for educational purposes is closely related to economic impoverishment, gender inequalities (both in the home and in the workplace), reduced life expectancy, higher rates of early pregnancy, higher rates of child birth and mortality, increased domestic violence and reduced concern about environmental degradation. Indeed, the absence of technology in the least developed countries limits their economic growth and creates an adult population that cannot compete in the global marketplace with adults who are 'digitally fluent'.
By limiting, or even denying, access to digital technologies, the digital divide reduces the chances of improving a country's economy and socio-cultural capital. This condition ultimately contributes again to limiting access to digital technologies. It is therefore fair to say that digital inequalities are intrinsically associated with social and economic inequalities, feeding off each other.
The pandemic.
Many studies and academic articles analyse the impact of the pandemic on the digital divide in education, highlighting that it is the sector that has been most affected by the spread of the virus. The pandemic has exposed existing educational gaps, most of which are related to digital technologies, and to which not enough attention has been paid until now.
As mentioned above, the possibility of organising online lessons is not currently within the reach of every educational institution. Moreover, it is undeniable that the difficulties of providing these types of lessons are closely linked to the unavailability of suitable tools and the lack of skills in the use of digital platforms. According to the OECD, there is a significant inequality in access to educational technology among students from different socio-economic backgrounds: students attending schools in disadvantaged contexts are less likely to have access to a computer to study, just as most teachers have arrived totally unprepared for this appointment (there are also differences in the availability of a stable Internet connection, but these are less relevant for statistical purposes). In fact, the digital divide in education also refers to differences in the level of digital literacy of students, teachers and family members, who have been unable to cope with the sudden and unplanned shift towards online learning.
Unequal access to online educational resources, as well as the difficulties encountered by many students in finding technological assistance from their parents, are the main consequences of the digital divide in education. Both have contributed to a serious setback in the educational process for those students most affected by the digital divide. Even though it may seem obvious to state it, the introduction of new technologies in education only benefits those students and teachers who have access to them and, above all, the ability to use them. On the contrary, they can place an additional burden on those groups and individuals who for social, cultural, economic or personal reasons do not have the access, knowledge and skills to use them.
Opportunities of technology.
In accordance with UNESCO's request on International Education Day, will digitisation make equal and fair education accessible to all? In the light of the above, it is difficult to give a completely affirmative answer. Today, most digital services seem to follow a 'market' orientation rather than a 'common good' approach. Power shortages, faulty equipment, lack of support, rigid teaching schedules and lack of teacher knowledge make it difficult to implement a digital educational approach on a large scale.
However, the potential for ensuring that the most vulnerable have access to quality education through digital channels is great. Local governments and technology companies could support a change in this direction, for instance by providing free Internet access, implementing technical infrastructure, providing language translation of content, expanding the educational offer, and bearing maintenance costs.
Training teachers in new teaching methods also plays a key role in this process. When planning digital education projects, the logic of the school system's context must be taken into account. In most cases, however, technology is imported from abroad and often learning programmes are standardised tools, not adapted to the local context. Innovative approaches are also needed here. This is why working together with teachers is the most beneficial and sustainable way of working: a motivated and competent teacher will be a valuable resource in identifying and implementing effective learning programmes that take into account the context in which they operate and the real needs of their students.
Does it make sense to invest in digital technology on a planet with sustainability problems?  Putting a technological device in the hands of a child in difficulty ned to be something other than a market-driven need.  Digitalization can represent a genuine tool for social emancipation.