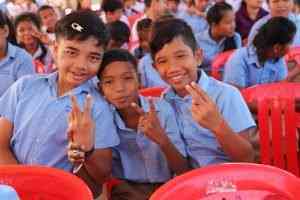 On November 21 Lavalla Village – a complex of 17 buildings for secondary students, in Cambodia, was incorporated to the Lavalla School which is a Primary education facility for students with physical disabilities and are mainly from the rural provinces where they are excluded from education.
"If their disabilities weren't so obvious – lost limbs, blindness, cerebral palsy, burns and scarring – you could believe the children you encounter don't have a care in the world; they are smiling, warm, happy, affectionate; truly grateful that you are visiting them. And the Cambodian staff, are very similar. Many of them also have disabilities but they are calm and positive", said Brother Peter Carroll, Australian Marist's Province Leader who was at the Opening of Lavalla Village.
The Lavalla Village was the last of Br. Terry Heinrich's major projects (deceased 20 November 2018), well supported by many. It is, a series of buildings grouped together that provide accommodation, study spaces, cooking and dining facilities for the secondary students who travel out each day to attend the local high schools. It provides much improved facilities for the older students, and a degree of independence".
"My visit coincided with the final Board meeting of Marist Solidarity Cambodia for 2019, and I had the opportunity to express my gratitude to the members for their generous commitment and welcome contribution. In addition to Brian Kinsella (Chair), Tony Burrows (Executive Director) and Allen Sherry, other members are Sister Regina Pellicore (Maryknoll), Brother Max Meier (MDA from Pailin), Ms Sophea Yi (local businesswoman) and Mr Chhom Sopagna (Finance Manager).
The meeting confirmed that the project is in good hands at both management and governance level" says Br. Carroll, while mentioning that they would not be able to continue the work without the support of some very generous benefactors.
"My few days there, the events I attended and the people I encountered, were most encouraging. Our Brothers, Brian, Tony and Michael, bring something very special to the community. Each have their own special gifts, and each are contributing actively and generously to the project. I'm most grateful to them as I know we all are. As I stated at the Opening, Marcellin would be proud of this special Marist project." Add the Australian Marist's Province Leader.