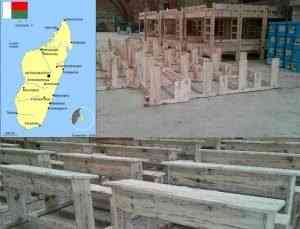 Thanks to the mediation of FMSI, 280 low-income students in Antananarivo, Madagascar, will have new desks. FMSI promotes educational projects for children and young people in vulnerable areas. This project was financed by Caritas Italy.
The Marist Saint Champagnat College in Antananarivo was built in 1957 and offers higher secondary education to 1,870 students.
The college is maintained thanks to the contribution of the Marist Brothers and to the fees paid by the students, variable according to their means. Many of them belong to very poor families whose parents make great sacrifices to send them to study. With so many needy students, the school does not have adequate resources to invest in new educational equipment to replace that which has deteriorated over time.
Thanks to the contribution of Italian Caritas, 190 benches have been purchased for 280 students.
These new desks will also be used in the provision of courses and other educational activities aimed at the general population, for which the school makes its facilities available.