Director and Legal Representative of the Chantiik Taj Tajinkutik AC Association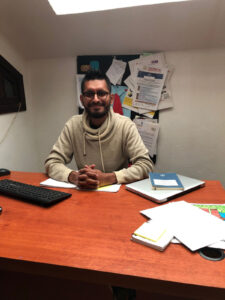 Tell us about yourself, Pascual.
I am a lucky man.
I realised this when I sat down to reflect and answer these questions. I am a single father and have a 9-year-old son named Itzael, which in Maya means Gift of Heaven; I share custody and (the challenges) of parenting with his mother. I am a self-taught musician, currently holding workshops on the arts with a focus on rights at the Rosario Castellanos cultural centre in Comitan de Dominguez, the city where I come from.
I am the eldest of three siblings, my mother was only 16 when she had me. My family was like that of all my friends, my mother at home, my father working, the struggles for money that wasn't enough, and my father's drug addiction normalised in the family and the whole neighbourhood. One of the best memories of my childhood was going with my friends to 'Casa de los Maristas', where there was a court to play basketball, where Brother Mauricio gave us snacks and where I felt free to go because my parents considered it a safe space.
The dream of being a musician was what – with the inexperience and irresponsibility of 14 years old – made me run away from home because my parents couldn't pay for my music lessons. After walking for several days along the road to board passing vehicles, unaware of the risk I was exposing myself to, I arrived in the city of Merida, in the state of Yucatan. Here I began working the streets informally, trying to support myself with music, playing in markets and streets, cleaning windshields and/or helping fellow musicians juggling traffic lights on the main roads. My family's anguished search paid off 14 months later. During that time I lost all my values and good habits and tried everything (drugs, alcohol, petty theft). Returning home finally made me realise the risk I had unknowingly exposed myself to, but also the huge inequalities that exist in our society. The vulnerability I was exposed to, such as being subjected to discrimination, hunger, insults, fear, omission and lack of interest from the authorities, led me to understand and verify the constant violation of the rights of children and adolescents.  I feel fortunate.  Despite the environment and violence that our whole country faces, today, I am the Director of Chantiik, a Civil Association that has offered me a safe space for 15 years, has supported integration and reintegration in schools, educating with values, learning a trade, knowing and defending the rights of children and adolescents. This association also deals with the problems of the family, supporting it, and works to ensure that healthy intra- and intergenerational relationships are established and recreated in society.  Yes, I am a lucky man, because I take care of my son, I am a musician and I work for children and their rights.
Where were you born? 
My name is Pascual Emilio Ramos Gordillo, I come from a family of farmers and entrepreneurs, I am currently 36 years old and live in the city of San Cristobal de las Casas, Chiapas.
What do you do in your spare time? 
I decided to dedicate my spare time to looking after my son, making music and holding workshops on the arts with a focus on the rights of children and adolescents in my area.
What is your experience with FMSI? 
On a personal level, my parents' house is five blocks from the Guadalupe de Comitan de Dominguez mission. In that Casa Marista there was a basketball court, where we children could spend our afternoons, exercising our right to have fun in a safe space. At the work level, working with children and young people introduced us to this Foundation, about which I can say: it is one of the best Foundations that contribute to the healthy development of minors, which, thanks to the professionalism of its operators, has allowed us to grow by helping others with love and courage. My experience is positive.
Equity, non-discrimination, solidarity & justice. What do they mean for you? 
Equity: every human being has the same intrinsic value as every other human being "we all have the same value". 
Justice: we all have human rights and we have the responsibility to know them, spread them, defend them and demand them when they are violated, for us this is justice.
Solidarity: we start from the assumption that each person is our fellow human being and that we must empathically collaborate in the mutual pursuit of personal, family and community development, which contributes to building a healthy social fabric.
Non-discrimination: we accept, respect and promote acceptance and respect for diversity in all areas of human development: sexual, religious, functional. All these values and principles underpin human dignity and without them, both on a personal and community level, the dignity of every human being is undermined.
Do you feel close to the values and Mission of FMSI? 
Yes, through my personal and life development, I have developed values that have led me to be the human being I am and above all to have a mission in my life, which is to want the best for the children and adolescents of my State, so that they have a better, more inclusive world, where their rights are recognised for healthy living and a dignified life.
How important are these values in the education of children?
We believe that they are fundamental and foundational in the development of a critical consciousness, in the assumption of responsibility as a subject of rights, in the promotion of a creative conscience, in order to face challenges and difficulties to promote the "lekil kuxlejal" which in Tseltal means "Dignified Life" for all, always respecting the particularities of the individual. These values also contribute to building a healthy, inclusive and empathetic society. This contributes to the realisation of a good life and healthy coexistence. Values, finally, determine the personality of individuals by becoming an expression of the moral, cultural, affective and social tone expected by the family, the school, the institutions and the society in which we live.
How would you describe FMSI?  
Humanitarian and child-supporting foundation.