Coordinator of the school mediation programme of the Project "Children's and women's rights in Bolivia: follow up on the UN Bodies reccomendations"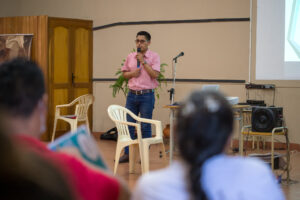 Tell us about yourself, Andres.
My name is Andrés Canaviri. I was born in Cochabamba, Bolivia. I am the coordinator of a school mediation programme currently being implemented nationwide in Bolivia. In my spare time I read books to broaden and deepen my knowledge, I play sports and I am an activist.
What is your experience with FMSI?
The process of preparing the report for the 2019 UPR of Bolivia, as well as the follow-up project currently under development.
What do the principles of equity, non-discrimination, solidarity and justice mean to you and why are they important?
Equity: Helping everyone to achieve equal opportunities Non-discrimination: We are all important and individual differences cannot be a reason for anyone to be marginalised
Solidarity: What one possesses, but also what one is, must be put at the service of others to the best of one's abilities
Justice: Give everyone what they deserve
They are important because they enable any society to live in harmony and ensure positive development for all.
Do you feel close to the values and Mission of FMSI?
Yes, I feel perfectly adherent to these values, which are those that drive me to support service to society – Bolivia in my case – without expecting something in return. This support allows me to see and understand the most important needs of the country and to do something to bring about change for the better.
How important are these values in the education of a child?
A child educated in these values will become a citizen who seeks good for others.
How would you describe FMSI?
Family, hope, providence, solidarity