Project Assistant of the Project "Equity of access to quality education for girls and disadvantaged children in Malawi"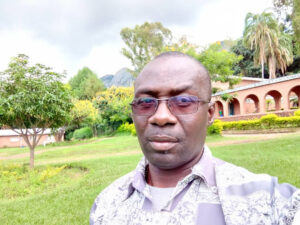 Tell us about yourself, Patrick.
My name is Patrick Siwinda, Project Assistant Manager for the Project "Equity of Access to Quality Education for Girls and disadvantaged Children in Malawi" which was introduced by the Marist Brothers' Administration, but facilitated by FMSI and is being funded by Misean Cara.
I am a Governance and Human Rights expert and I hold Post Graduate Diploma in Fundamentals of Social Accountability Monitoring obtained from Rhodes University of Republic of South Africa (RSA) and Diploma in Philosophy and Humanistic Studies obtained from Inter-Congregational Institute (ICI) formerly known as Inter-Congregational Seminary (ICS) in Malawi.
As Project Assistant Manager, my job is to guarantee the positive success of the activities and respective results which are considered to be achieved only if the target of each one is consistent with the project proposal, specifically as follows:
Ensure understanding and successful implementation of the project,
Carry out monitoring and evaluation in order to track, analyse, add value and report on relevant information throughout the project life span,
Provide support to young people and children to adhere to Covid-19 preventive measures,
Provide material and support programs that enhance communication skills and self-confidence such as motivation speakers, public speaking, drama, writers clubs, group discussion to improve use of English in communication among students,
Provide psycho-social capacity building initiatives and skills among young people and children,
Provide support towards ICT solutions among learners and school staff,

   

Provide support to the Girls Empowerment clubs,
Developing relations with national, district and community-level stakeholders to enhance networking and collaboration
I was born on 19th February, 1971 at Likuni Mission Hospital in the Capital City of Malawi. During my free time I do some consultancy work on governance and human rights. I am also a small-scale commercial farmer.                                                                                                                                                                          
What experience links you to FMSI?
I am a competent and ambitious person who has the required skills in planning and implementing donor funded projects, monitoring and evaluating projects, facilitation and community mobilization, participatory rural appraisal (PRA), participatory learning and Action (PLA), working with local communities, NGO's and Government departments, qualitative and quantitative researching methodologies, data management and data interpretation.
It is against this background that some point in time Marist Brothers' Administration used to engage me to provide capacity building interventions for their New Horizon Project and eventually such part-time engagements facilitated under institutional partnership led to my current full time job.
As I assist the Project Management Team with project implementation by managing and promoting activity interventions through the local project teams in each targeted school, I am obliged to provide supervisory support to Executive Management and influence informed decision processes and maintain communication and coordination with the Province. In this equation, FMSI assists in application of donor's procedures and monitoring and evaluation as per the dictates of project design under Decision Making Arrangements. Hence, my clear relationship with FMSI.
What are the principles of equity, non-discrimination, solidarity and justice for you? Why are they important to you?
The principles of equity, non-discrimination, solidarity and justice remain cardinal pillars of human integral development that support, influence social capital growth and contribute towards meaningful human transformation for common good.
Do you feel close to FMSI values and Mission?
My clear understanding and personal conviction is that FMSI and Marist institutions take very seriously their duty towards all its learners; schools have been entrusted to their care and seek to provide conducive environment where all children are safe, secure, valued, respected, and their views are accommodated. The Marist schools involved are governed by the Marist Provincial policy for child safeguarding, the formal adoption of a Child Protection Policy provides guidelines for schools and their staff to create safe environments for children. All schools involved in the current initiative have a child protection policy in place. As project management unit; we have always aligned and referred our planning processes and implementation of interventions to the intents of the international, national and local legal frameworks It means that in my work of assisting with project implementation I must ensure that the rights of children are respected, promoted, protected and really reflect fundamental constitutional principles by adopting rights based approaches to Social Accountability. Therefore, I feel close to FMSI values and Missions.
How important are these values within a child's education?
The above alluded values remain of paramount importance within child's education and project targeted schools shall actively promote the welfare and development of the school learners by progressively adopting and implementing policies and legislation aimed at achieving both girls and vulnerable children education goals. We need to facilitate introduction of measures which will guarantee accountability, transparency, personal integrity and human morality and which by virtue of their effectiveness and transparency will strengthen confidence in these public institutions.
How would you describe FMSI?
FMSI advocate child rights and obligations.